Wendy is an occupational therapist in Switzerland: 'We can see the ski slope from our House'
Every year thousands of people move to Switzerland to live and work here. How do people experience their time in this (to them) new country? And do they actually want to go back to their home country? We spoke to Wendy Bart from the Netherlands.
Who: Wendy Bart
Profession: Occupational therapist
Where: Interlaken, Zwitserland
Working and living in Switzerland since: December 2021
How did you end up in Switzerland?
"During my occupational therapy training, I heard about people who had found jobs in Switzerland. On LinkedIn, I had been approached by a recruiter for that too, but I didn't respond at the time. Then I jokingly tagged my boyfriend in a vacancy to work as a physiotherapist in Switzerland. He was in on the idea right away."
Did you have to think about it?
Yes, the first thing I thought was: How are we going to do that? We would be living a long way from our family and we don't really speak German. But at the same time I was curious as well. We both love hiking in the mountains and my boyfriend is a huge winter sports fan. We got more and more excited about moving to Switzerland and then we talked to a special recruitment agency. That's how we ended up in a small town near Interlagen in December of 2021 and the both of us are now working in a hospital round the corner.
---
"I get a lot of freedom to organise the work in my own way, that's incredibly fun."
---
Why is medical personnel like yourself in such demand in Switzerland?
"There is a shortage here in Switzerland. The training to become Occupational therapist is quite long in Switzerland and you can only attend the training in one place in Switzerland. Furthermore the Swiss think that the Dutch level of education is very high so they are eager to hire personnel from the Netherlands."
(Note: That is lucky for the Dutch, but it is in general quite international in the healthcare sector.)
How are you doing with your German skills?
"When it became apparent that we were moving to Switzerland, we immediately started with a language app. Later on we took an online course from a German school in Berlin. The Swiss accent is quite hard to understand from time to time but you get used to that quite quickly. I usually ask my colleagues to talk slowly or in high German."
Are you enjoying your new job?
"I have always worked in rehabilitation centres before this, a hospital is very different. I am deployed on the ICU a lot, which is very interesting. Normally the physiotherapists did this work, now we really do it together. I get a lot of freedom to organise the work in my own way, that's incredibly fun."
What did you have to get used to when you came to Switzerland?
"The cost of ordinary day-life. After two months I am still shocked. The groceries for example are very expensive, for 500 grams of minced meat you pay around 7 euros. Going out to eat is expensive as well but we do do it. When you go up the skiing slope, you don't bring your cheese sandwich along."
---
"I had never been on a winter sports trip but I turned out to love it."
---
What do you like most about life here in Switzerland?
"Our house is very nice, as is the environment. It is very quiet and we live super close to the mountains. I can even see the ski slopes from our living room window. If it stays like this, I never want to leave. But of course I miss my family and friends. And I miss the beach, I can't feel the wind like I could on a beach on Sundays anymore. But when you see the view here, you soon forget about that."
What do you like to do most in the weekends?
"We ski a lot. I had never been on winter sports trip before, but I turned out to love it. Some slopes are still a bit challenging, luckily I get lessons. The other day we had friends over and then we really took a skiing holiday. Everyone said: 'It's amazing that you live here.'. We still have that ourselves every morning when we look outside."
The experience of Bas in Switzerland
My name is Bas, I am 28 years old and I have been working as a physiotherapist in Switzerland for over two years now. I was completing my study in February of 2017 and the job market in the Netherlands did not look very promising, in my eyes. By chance, I saw a vacancy on the internet for an interesting job, where, to be honest, I only later noticed that it was in Switzerland. After several conversations over the phone and Skype, I went to see Switzerland a few months later. Since I had never been there before and knew little about life there, that was the first step for me.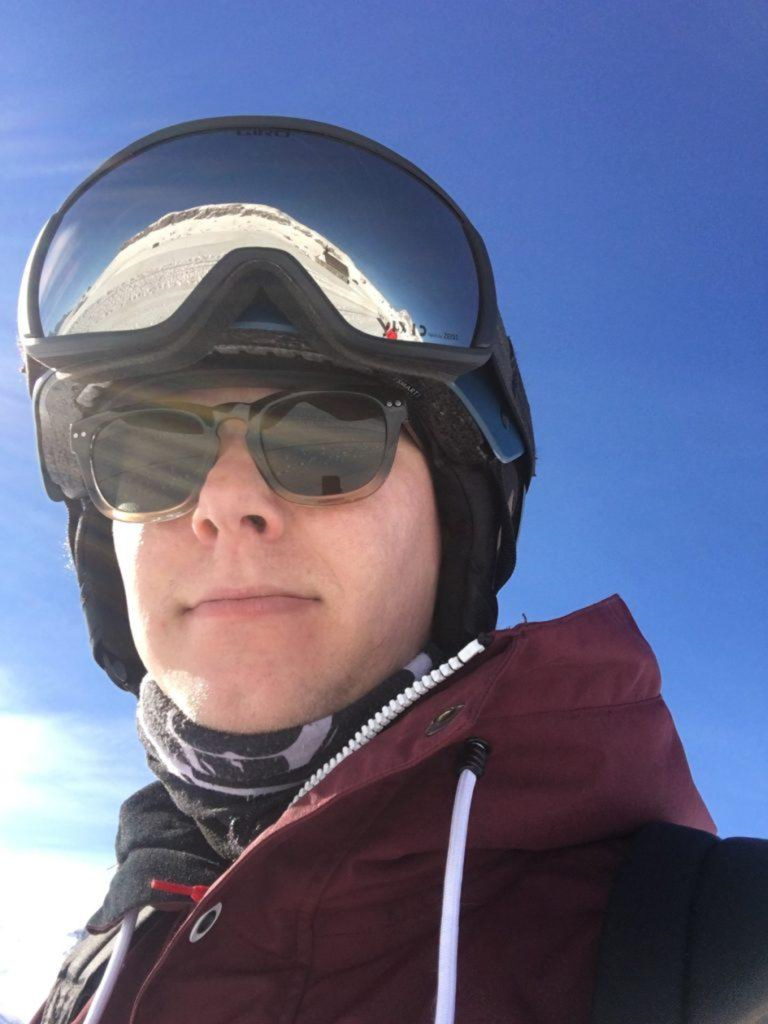 Why Switzerland?
After a positive visit, a couple months' worth of learning German on my own and an entire relocation plan, I moved to Switzerland with my girlfriend at the end of July. The main motivators for my choice to go was the certainty of employment at a nice working spot (after three months permanent contract), the nature of Switzerland (mountains, winter sports, climbing), the high living standards (comparable to the Netherlands) and of course the financial aspect played its part. Of course the salaries in Switzerland are quite high and the taxes are convenient as well. These factors added up were reason enough to convince me to go and live in Switzerland for at least one or two years.
Arrangements in which Caretomatch guides you
There is a lot involved in moving to Switzerland, which requires good preparation and planning. The most important things are a job and accommodation. Both, fortunately, are not scarce in Switzerland, although rents can be high. The rest is a matter of completing to-do lists during the process of 'emigrating'. Things like, getting out and registering with the municipality, residence permit, family doctor, health and other insurance. Once you work in Switzerland as a physiotherapist, you also need to register with the Schweizerisches Rotes Kreuz (SRK).
Leisure
Living in Switzerland comes with its upsides. The mountains rule the landscape but the nature in Switzerland is very varied. The landscape offers possibilities for hikes, climbing, cycling, water sports and winter sports. I live in the canton of Lucerne and in this area especially there are a lot of sports related possibilities. I started hiking, climbing and snowboarding here in Switzerland. In summer, I go into the mountains in the weekends and in winter I go snowboarding in the weekends. Switzerland's location is also favourable. With Italy, Austria, France, Germany and Liechtenstein as neighbours, it's easy to get away for a weekend.
The Swiss mentality
Every group of people has their own cultural characteristics. I am from the Netherlands and noticed that the Swiss are typically a bit more introverted than what I am used to from the Netherlands. The Swiss are mostly very friendly and polite but it can take a while before you really build a friendship compared to Dutch people maybe. Where the Dutch are known for their 'clumsy' honesty and straightforwardness, the Swiss are more known for their restraint and correctness. There are enough exceptions though and Switzerland has a lot of migrant workers and expats.
Working as a physiotherapist in Switzerland differs too as there is no direct accessibility to physiotherapy and patients therefore need a referral from the GP. You do have a lot freedom to fill in the treatment however you like.
The language
The language takes some getting used to, the Swiss-German is a dialect which differs per region. It's not an official written language so everybody writes the way they have been taught at home. It can help a lot to read the Swiss-German out loud.
Family and friends
I have been living here for one and a half years, which has been very much to my liking so far. I work 80-90% (34-38 hours a week) and have divided my schedule in such a way that I have a long weekend once every two weeks. That way, I can easily visit the Netherlands or have a weekend off. I visit the Netherlands about 6-8 times a year. Also, friends/family visit every once in a while. So I never have to miss my friends/family for long either. I have decided that I want to stay here for at least another year, maybe longer but I'll see what the future holds.
There is a high demand for Physiotherapists
As I mentioned earlier there is a high demand for Physiotherapists and other medical personnel. Should you be looking for a job and you are open for a new experience in your life, I would definitely recommend Switzerland.