THIS IS HOW WE FIND A HEALTHCARE PROFESSIONAL
CareToMatch is specialized in the recruitment of healthcare professionals. We search for highly qualified professionals based on your preferences.
Before we start recruiting, we like to have telephone contact regarding the soft criteria. We find it important to identify your wishes and needs and the working atmosphere of your organization.
We ensure that your vacancy is easily found on our site and through other (social media) channels. We reach the right target group through our large network and marketing initiatives. This way, we will find the best candidate for you in a timely and effective manner.
Learn more about our working method below or contact us
How does CareToMatch work for you?
 Publish your job offer for free.
40% of healthcare professionals are looking for another job. These are often very experienced professionals who really have something to offer, but who will not make the step without reason. With your online job offer, they have the opportunity to respond if your wishes and requirements match theirs.
We refine the description of your job offer and contact you if you wish to do so.
We publish the vacancy anonymously so that candidates can contact you through us.
If you wish, we will personally select the most interesting candidate for you.
We have an extensive pool of candidates.
Based on your wishes, our system automatically displays suitable candidates.
CareToMatch can also perform a personal search. For this purpose, we would like to contact you by phone regarding the subjective selection criteria.
As soon as we have found a suitable candidate who is interested in your vacancy, we will put you in touch with them.
Every person is different and yet we want to ensure quality. That is why we only send you an invoice when you are completely satisfied with the candidate and the candidate starts working for you.
If, within one month, it turns out that you are not compatible, you will be reimbursed 50% of the recruitment and selection fees.
We will continue to search until your team is complete!
Add a vacancy
You will recover our recruitment and selection fees in 1 week!
Our software makes the best match according to your wishes.
Not satisfied yet? With a personalized search, we are happy to search for you.
For our complete recruitment and selection process applies: "No cure, no pay", in other words: no results, no payment.
CareToMatch will only charge a fee when the candidate actually starts working with you.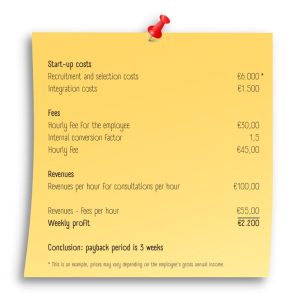 (Temporarily) an employee left over?
In collaboration with your employee we will look for a (temporary) solution.
We check our system free of charge to see which vacancies match your wishes.
Together we determine the eventual probationary period with return guarantee.
You supplement the salary or receive a credit note for the hours worked with the new employer.
You will only receive an invoice once a solution has been found and all parties are satisfied.